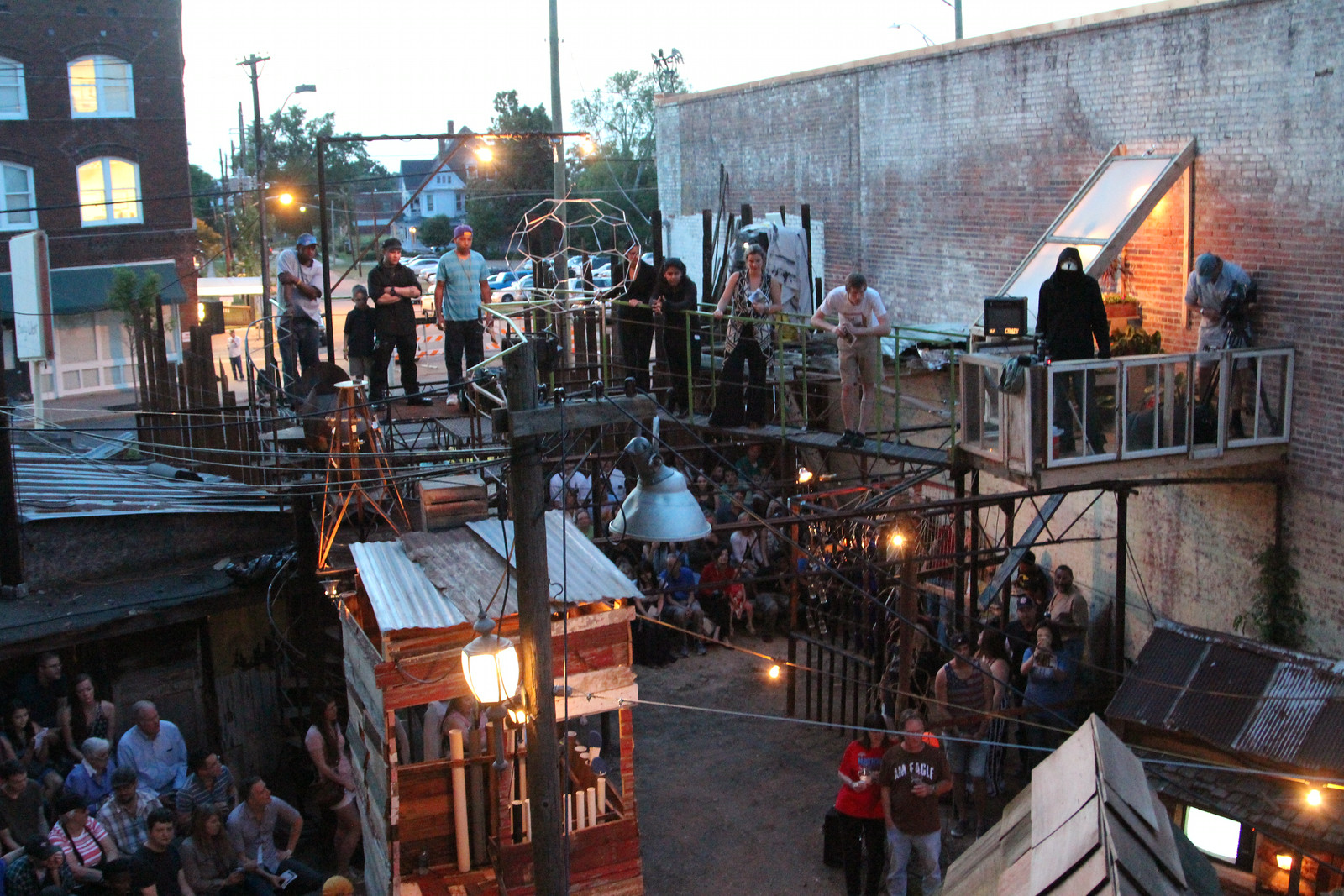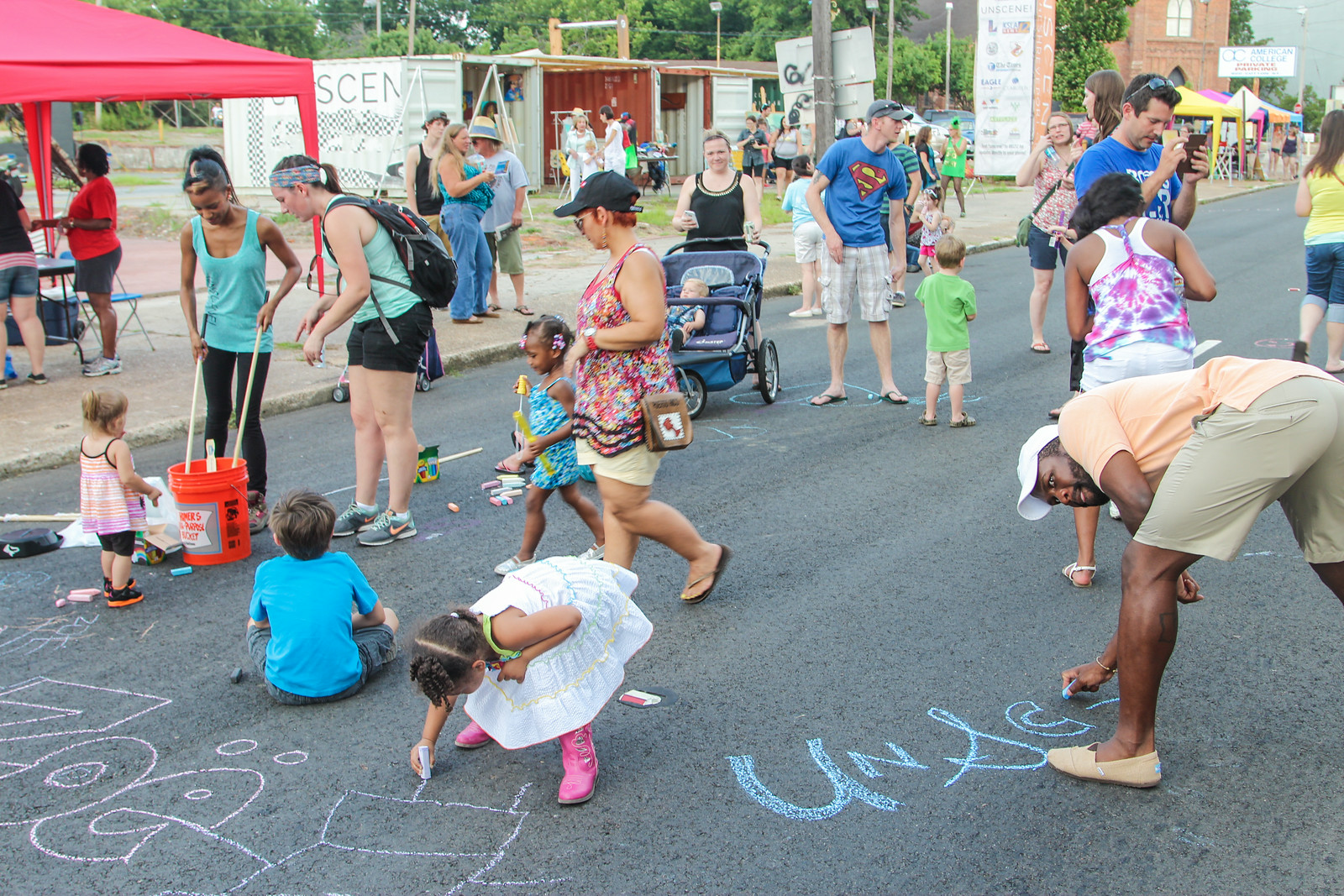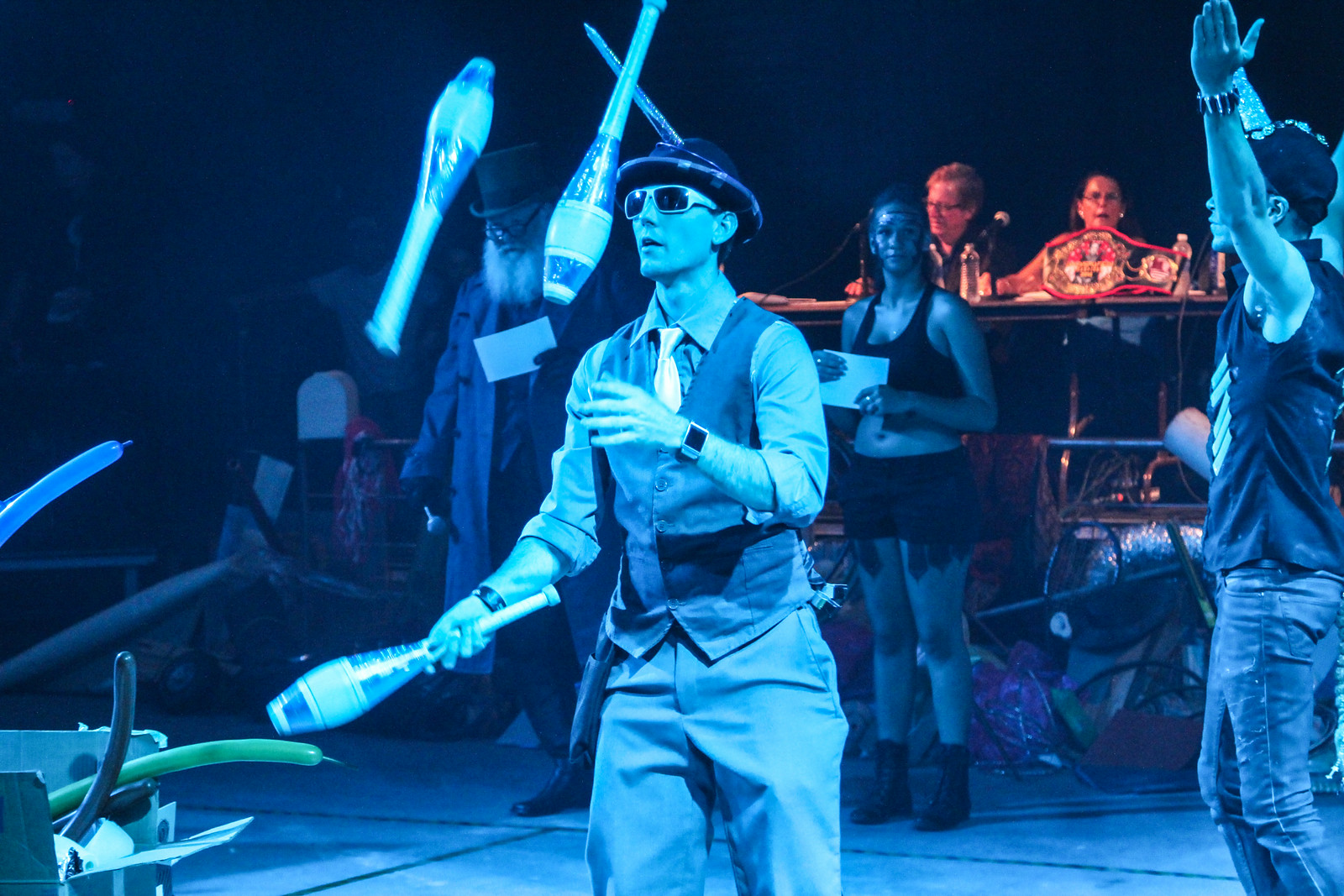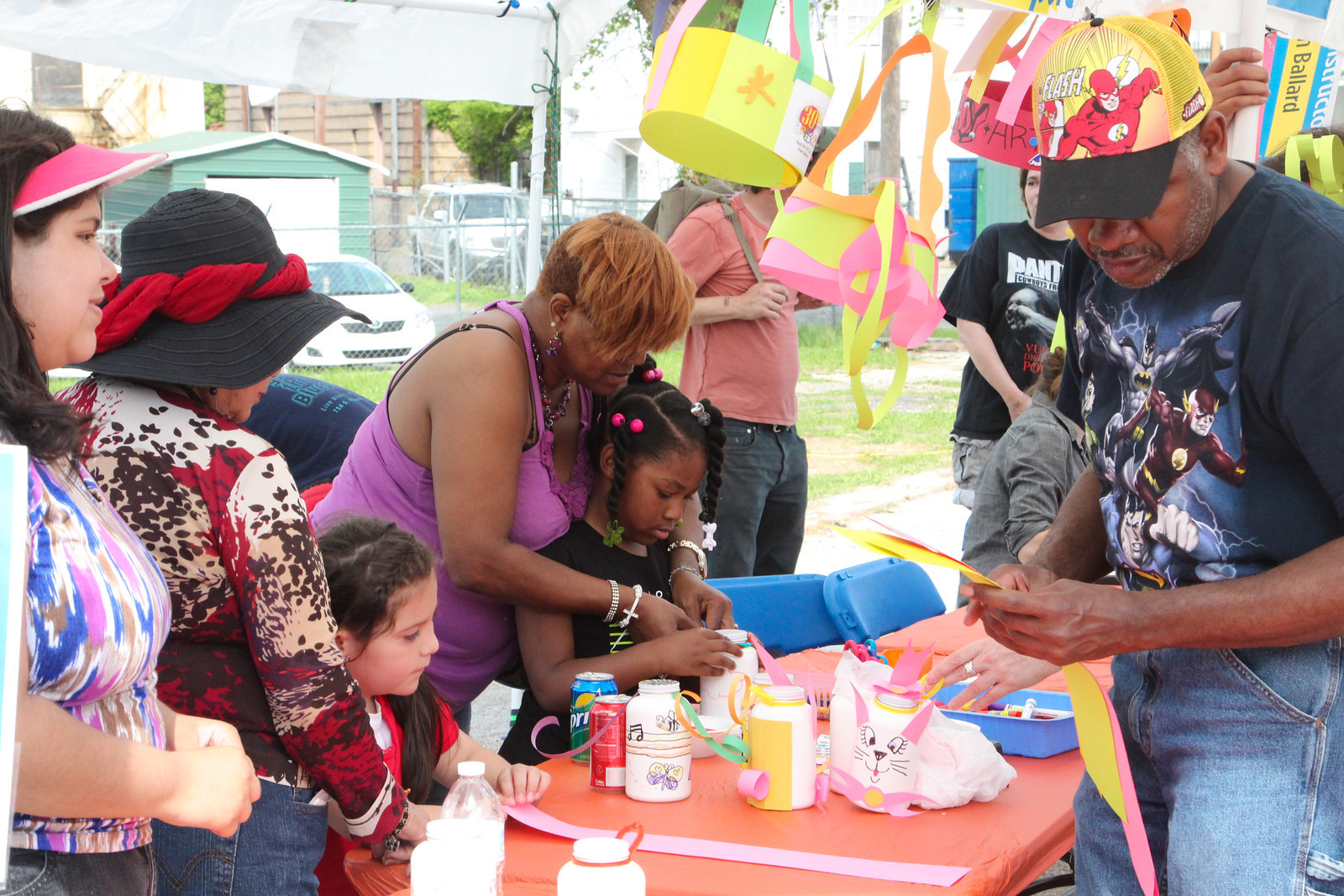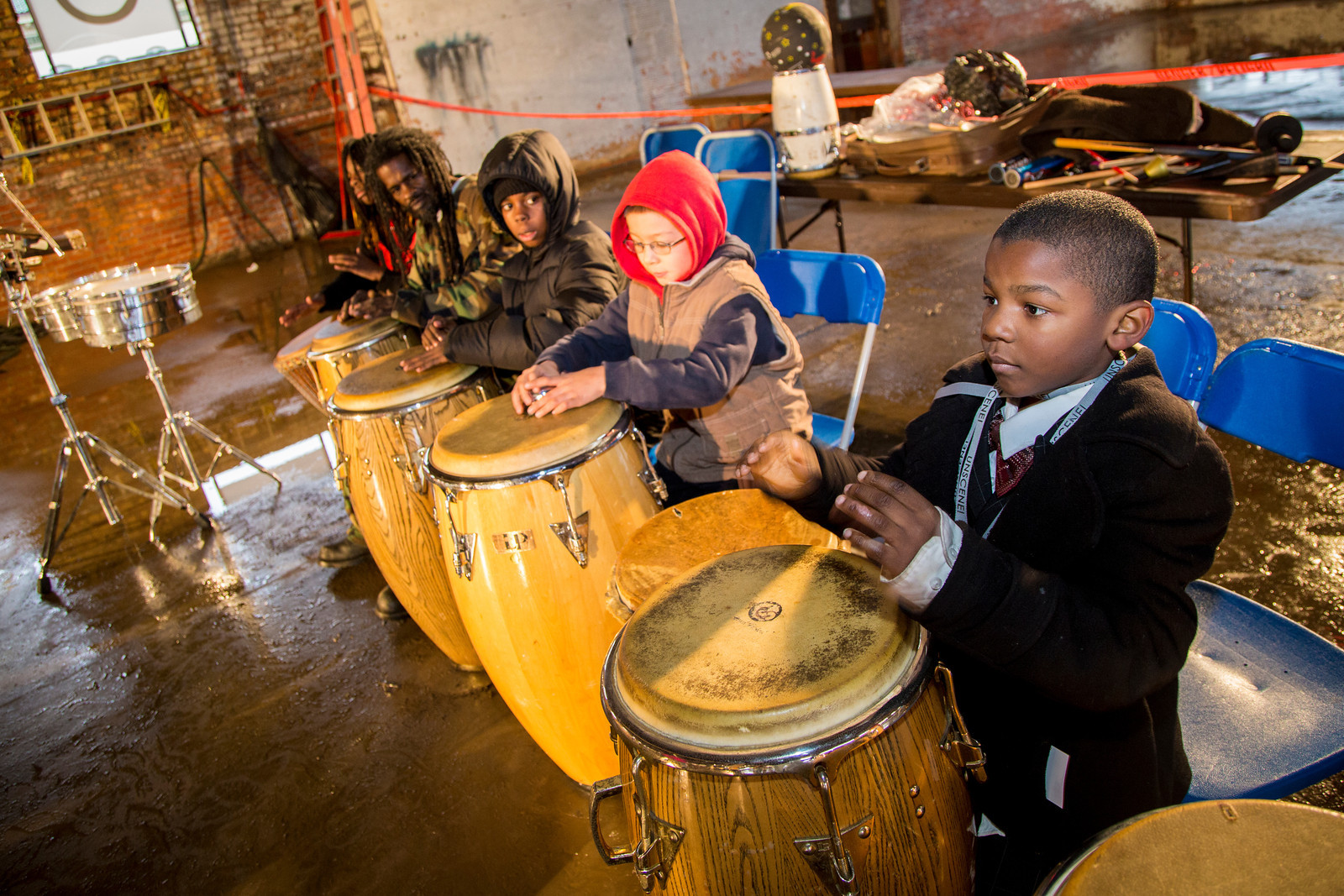 UNSCENE! is a series created by the Shreveport Regional Arts Council (SRAC), which will unleash the Shreveport Common, debuting the innovative look, feel, tastes, smells and sounds of this new uncommon cultural community. UNSCENE! events will be comprised of national, regional and local artists who will create and present unconventional new works. Each unpredictable, unexpected, unabashed, and unabridged "un" experience will leave an indelible mark that permanently advances Shreveport Common.

October 2013 | MSPS New Music Festival Prelude
UNSCENE! teamed with minicine?/Swampland, Inc. to extend the MSPS (McNeil Street Pumping Station) New Music Festival to include a Friday night prelude featuring the UNexpected in currently UNused places: "dinner party" with Peter Fetterman, Homer Flynn, rooftop DJ and artist markets.
November 2013 | Drive-In Theatre at Texas Avenue Makers Fair
UNSCENE! joined TACA's Makers Fair with artistic exercise, drum line parade, musical productions and food trucks capped by a DRIVE-IN Experience featuring PeeWee's Big Adventure and more.
Click here for more photos!
December 2013 | INSIDE OUT
Artist team INSIDE OUT, along with local artists, photographed the neighbors, adding their faces – poster-sized – to a prominent brick wall at the entrance to Downtown/ SHREVEPORT COMMON, and including them in their international paste-up project.
January - February 2014 | STEVE OLSON
Legendary skateboarder and artist Steve Olson worked with local artists to create a "Skate-able Scupture" Public Art installation on an unused concrete slab. It continues to attract skateboarders and local performers.
March 2014 | STAN - the RECORD MAN - LEWIS
A tribute to Rock 'n Roll, Blues, Gospel and R&B music production history-maker, Stan Lewis. Featured an all-day line-up including Bobby Rush, Vickie Baker, Carl Sims, Ernie Johnson, Brady Blade, Sr. & The Hallelujah Train and Betty Lewis & The Executives.
April 2014 | The Big SCENE!
Headliner Theresa Andersson with Luther Cox, Jr., Sereca Henderson and Joe Bluhm topped off a full-day of the Texas Ave Makers Fair. The day featured 225 vendors, four stages hosting local and regional artists, food trucks and the Holiday in Dixie Parade.
May 2014 | CALANTHEAN CANYON by AIRLIFT
New Orleans-based AIRLIFT created interactive musical architecture and performances in an overgrown niche now named Calanthean Canyon. Musicians "played the houses" during a two-day debut with Theresa Andersson, Brittney Maddox, the Slade Collective and The Residents.
June 2014 | RICH TABLE FOOD-ART-FUN
International award-winning chefs Sarah & Evan Rich brought their San Francisco Rich Table experience to the Municipal Auditorium, with 20 local culinary artists to create a UNique fresh food experience with artist and performer pairings.
July 2014 | WAYNE WHITE PUPPET PARADE
Emmy Award winning (PeeWee's Playhouse) artist, art director and puppeteer Wayne White designed a cadre of large-scale puppet characters from Shreveport Common's history that, with the help of local artists, paraded through Shreveport Common with dancers, drummers, bands and stilt walkers.
August 2014 | UNDISPUTED!
A four-day National Art Critics Series culminated with this season's UNSCENE! finale, UNDISPUTED! ART CHALLENGE at Millennium Studios. Eight artist teams competed for a single $10,000 cash prize before three art critics and a voting audience.
October 2014 | Performances at Makers' Fair
UNSCENE! paired up with Makers Fair a third time, adding to the festivities with performances from Luther Cox, Jr. Dance Company on Steve Olson's "skate-able sculpture", Mahogany Dance Ensemble at Calanthean Canyon and the Shreveport Symphony Orchestra on the steps of the Municipal Auditorium.
November 2014 | Tatsuya Nakatani Live @ Calanthean Canyon
Osaka-born creative artist Tatsuya Nakatani brought his visceral, intuitively primitive percussion style to the AIRLIFT designed Calanthean Canyon, engaging local musicians who performed around him in the music houses and on Nakatani's trademark gongs. The result was an ethereal, organic sound that perfectly married with the Canyon's acoustics and aesthetics.